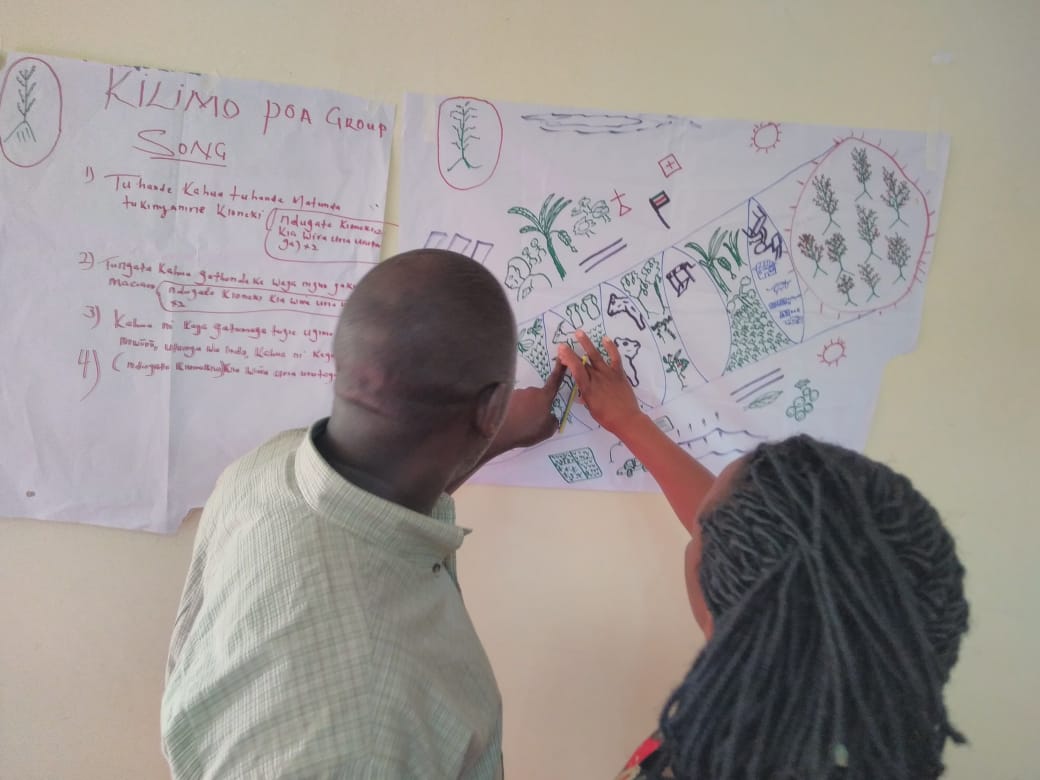 Meru ELC – Kenya
Igoji ELC is located in Igoji Market, Meru County. It is a 32 km drive from Meru Town. The venue used for the ELC is due to a collaborative venture with the County Government of Meru, who provided the space for the establishment of the ELC. The ELC is equipped with the necessary infrastructure and training materials and offers GALS training and consultative services on demand at affordable fees.
The ELC is relatively new as it was established and started in 2019, and has just started its journey towards being registered as a legal entity.
Igoji ELC is strategically linked to the Upper Tana Natural Resources Management Project supported by IFAD, and has already supported the development and rollout of the GALS Methodology to over 100 champions.
It covers the geographical areas of Meru, Tharaka Nithi, Embu and Kirinyaga counties in central Kenya.
The number of champions subscribed to the ELC are 145. ( 85 Women and 15 Men)
The purpose of the ELC:
• Address gender inequality and improve livelihoods in rural communities in the Counties of Meru, Tharaka Nithi, Embu and Kirinyaga, using the GALS methodology.
• Provide Training services for external stakeholders on the GALS methodology.
Niche of Igoji ELC:
Majority of the areas covered by the ELC fall within Coffee, Tea and Rice Production Zones in Kenya. Igoji ELC strives to tackle gender injustices whilst supporting and promoting good agricultural practices to improve livelihoods of various players within the agricultural sector, majority of whom are small holder farmers. The ELC will also plug into IFAD funded projects, namely Upper Tana Natural Resources Management programme and Kenya Cerals Enhancement Programme. The ELC is well positioned to provide and facilitate GALS trainings. In addition, Igoji ELC will also target other donors funded projects, County Government staff, Public Institutions, Private Institutions and Farmers' co-operative unions.
Network and Partners
Igoji ELC has already fostered collaborations with the National , County Governments, Non-Government Organizations (NGOs), Farmers Co-operative Unions, Women and Youth (WOYO) Groups.
Services provided by Igoji ELC include:
• Basic GALS methodology training – The Centre has enough qualified champions who will undertake training of GALS to its various clientele.
• GALS champions Certification – Igoji will qualify and certify GALS champions at both basic and advanced levels.
• Capacity Building of peers which will enable more champions to advance their knowledge and practice of GALS methodology.
• Host and promote GALS activities at their premises.
• Information exchange with other ELCs and the regional Hub
• Documetation of best practices and sharing learnings for replication
Contact:
Igoji ELC can be contacted through:
Johnson Muriuki – +254 710 361 601 – Chairperson
Mary Kendi – +254 713 470 990 – Secretary
Or use the Kenya national page to contact the ELC.